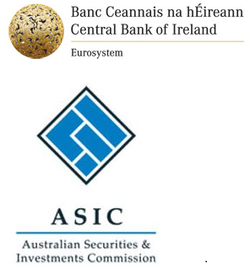 A common response raised in Ireland when one contrasts and compares the
UK FCA innovation hub
approach to that of the seemingly agnostic approach by the Central Bank of Ireland to the growth of new regulated fintech business is that the Central Bank's mandate does not include a competition objective like that of the FCA*. Therefore it is interesting that the Australian conduct of business regulator, the Australian Securities and Investments Commission, which does not have a competition mandate either is able to frame a proactive and forward-looking strategy which is aimed at (i) the right balance between a free market-based system and investor protection; (ii) digital disruption to existing business models and channels; (iii) structural change in the domestic financial system through growth of capital markets, and movement of savings from the banking sector; and (iv) financial innovation-driven complexity in products, markets and technology. In a
speech
delivered by its Chairman, Greg Medcraft, on 23March 2015, the ASIC spoke of being driven by the digitisation of the domestic economy, and globalisation, which affects products, markets and technology.
In his
speech
, Mr Medcraft, discusses digital disruption and cyber resilience. He identifies three digital disruption offerings: (a) new forms of access; (b) greater competition, and (c) greater efficiency, when discussing the potential of digital currencies; peer-to-peer lending, and robo-financial advice.
There is truly something Ireland can learn from Australia here. In short Ireland, like Australia and many other countries, needs a regulatory announcement (
indeed a regulatory pronouncement would be better
) that "businesses wanting to introduce ground-breaking financial products or services that genuinely benefit consumers" will find that the Central Bank is open for business. Being agnostic could soon start being interpreted as being antagonistic towards policies supporting growth of innovative regulated services in Ireland, especially noting the low number of PSD firms (11) and E-money (0) authorised in Ireland.
So what is the ASIC up to? In 2015 it will launch an innovation hub so that innovative start-ups and FinTech businesses can navigate the regulatory system quickly and easily. For example, the ASIC is considering: ways to streamline common application processes, including applying for or varying a licence; giving innovative businesses a dedicated contact in ASIC and more opportunities to talk about issues with ASIC decision makers; and developing an innovation portal on its website – a one-stop shop for innovative businesses to access information and services directly targeted at them.
Every regulatory regime is different; but it's important to be in a position to identify and leverage the best parts of these various jurisdictions for the benefit of Ireland, its economy and consumers.
*ASIC's mandate is similar to peers, with the exception of the United Kingdom Financial Conduct Authority (FCA), which has a specific objective to promote competition. See
Financial System Inquiry Report December 2014