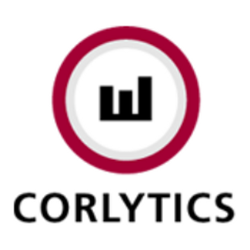 Peter Oakes of Fintech Ireland. a leading fintech and regtech expert, looks at the recent work of Irish regtech startup Corlytics
A few weeks ago The Financial Times reported that failures in customer reporting have cost the world's top investment banks $43bn in fines over the past seven years. This was the single most expensive compliance issue, according to research undertaken by Irish regtech start-up Corlytics. Corlytics research also found that the main types of failure and wrongdoing resulted in fines totalling $150bn for 10 US and European banks between 2009 and 2015. Corlytics is, as the name suggests, an analytics firm.
In addition to the customer reporting compliance failures, other issue that caused significant financial and regulatory issues for large banks included rigging foreign exchange rates, money laundering to product mis-selling to name just a few.
"The seven years of fines have taken a heavy toll on the banks, wiping out the equivalent of a staggering 14 per cent of their equity capital."
The pool of banks covered by Corlytics' work are Barclays, Bank of America, Citigroup, Credit Suisse, Deutsche Bank, Goldman Sachs, HSBC, JPMorgan, Morgan Stanley and UBS. The seven years of fines have taken a heavy toll on the banks, wiping out the equivalent of a staggering 14 per cent of their equity capital.
John Byrne
, chief executive of Corlytics, said client reporting failures were the source of substantial fines for banks in a wide variety of cases, including misleading customers about investments and not communicating clearly enough with borrowers. "It can involve any aspect of client disadvantage or loss due to inaccurate or misleading reports or communication,".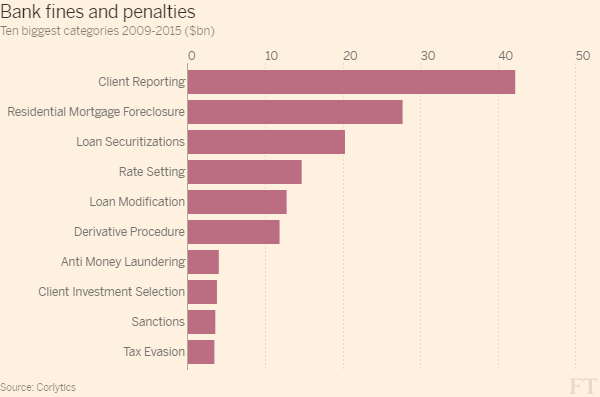 Corlytics' work shows poor disclosure to clients was a factor in the $25bn of fines paid by US banks in a 2012 settlement for abusive foreclosure practices. The second most expensive issue for the 10 banks was failures in how they sold residential mortgage securities, which resulted in a penalties total of $27.7bn. The banks meanwhile paid $20.2bn in fines in relation to securitisation failures. "Rate setting" fines came to $14.6bn, partly stemming from banks' manipulation of foreign exchange and interest rates.

Mr Byrne said that while many banks have "experienced serious issues with regulators, some have not".
"The data seems to indicate that the less diversified a bank, the lower the regulatory risk," he added. "This may be because with fewer business lines, [internal] controls can be better understood and implemented."
The high point for penalties was 2014, when banks paid $56.2bn in fines for compliance issues ranging from foreign exchange and interest rate rigging to flaws in selling mortgage securities. Banks paid fines of $40.2bn in 2013, and $38.2bn in 2012.

Banks' penalties came to just under $10bn in 2015. However, European banks are braced for substantial fines this year when they find out how much they will pay for mis-selling mortgage bonds.

The fines do not cover most of the £30bn that UK banks paid for mis-selling payment protection insurance. This is because Barclays and HSBC are the only two British companies that rank among the world's top 10 investment banks, and therefore are included in Corlytics' work.

Corlytics has assembled a database about banks' penalties based on disclosures by authorities with powers to levy fines.

The Dublin-based company sells the database to banks looking to pinpoint areas of weakness, and regulators which want to know how their penalties compare to others.