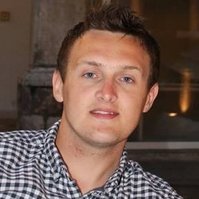 'Marketplace Lending' defined
Before we delve into the eagerly awaited Innovative Finance ISA coming April 6th it would be worthwhile explaining this term, 'marketplace lending'.
In 2014 the Economist coined peer-to-peer lending '
Banking without banks'
, despite this sentiment being the vocal outcry of UK peer-to-peer platforms, it no longer rings true. Peer-to-peer lending used to be a two-sided network of lenders and borrowers; direct lending between 'peers'. In 2015, 1,031 institutional funders were reported to have been involved in financing deals across UK alternative finance platforms. 45% of UK platforms reported institutional activity, compare to 28% in 2014. Nesta shed more light on this trend in their
annual report
.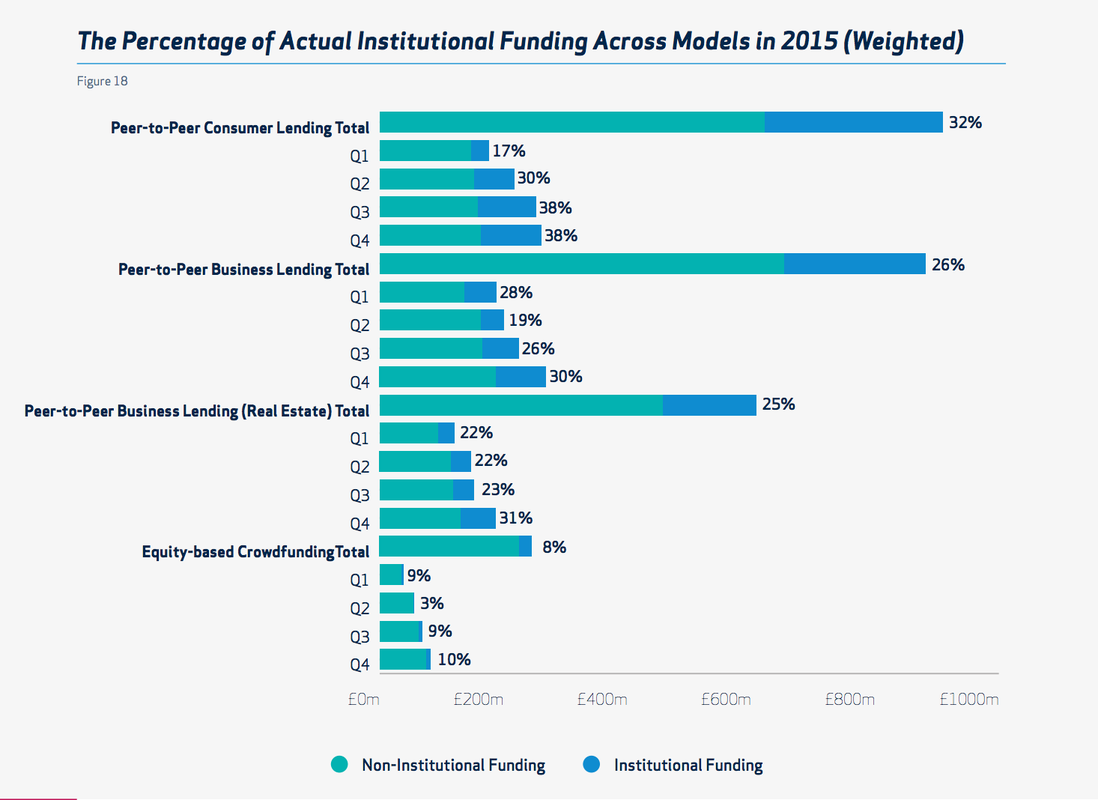 Image 1: Nesta report: 2016
As you can see, this innovative asset class, "peer-to-peer" lending has become entrenched in institutional funding.
· 32% institutional funding P2P consumer lending
· 26% institutional funding P2P business lending (total)
· 25% institutional funding P2P business lending (real estate)
AltFi Data called this in Spring 2015
, when they published statistics on institutional funding within the three largest UK platforms: Funding Circle, Zopa and RateSetter.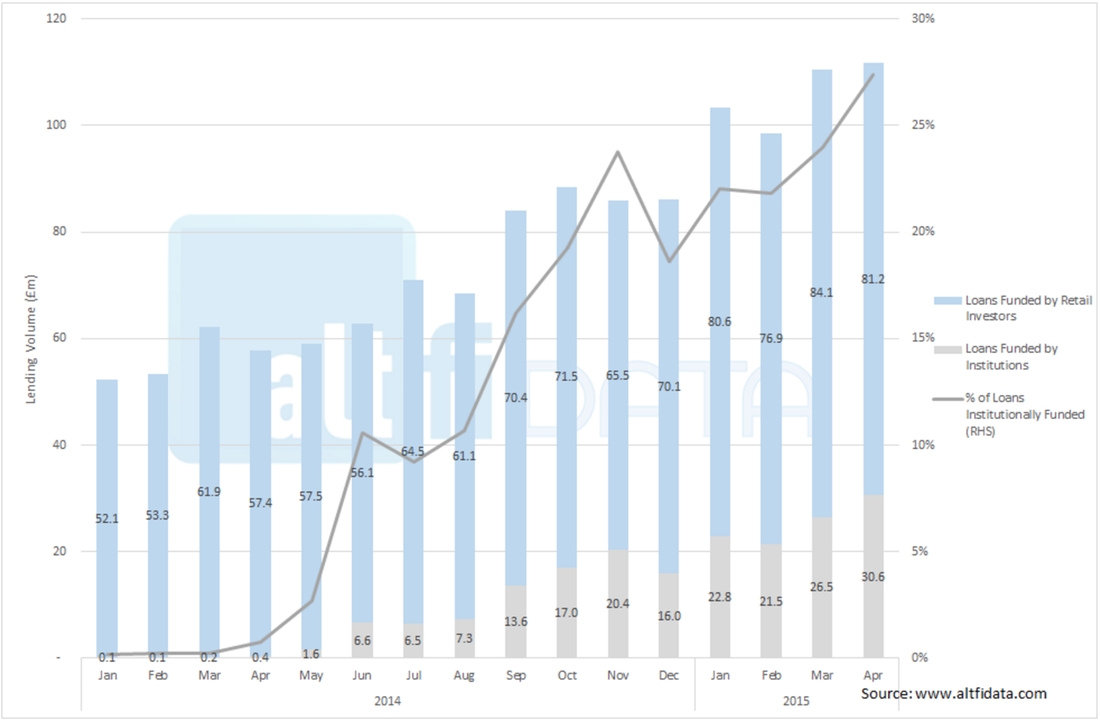 Image 2: AltFi Data: estimated aggregate institutional participation in Funding Circle, Zopa and RateSetter originated loans 2014 – April 2015
It is almost one year on, and evidently the darky grey line has continued to rise. What assertions can we draw? Well, as borrower numbers increase, lending institutions can facilitate the loans where retail investors can't; there aren't enough of them. With over 10,000 UK SMEs and 600 commercial property developments funded in 2015 (P2P business lending) it is no wonder institutional activity has become an underpinning feature of marketplace lending.
· It took 490 P2P investors (avg) to fund a typical real estate loan of £522,333 (2015), demonstrating the volumes required to fund an average loan.
Also, the institutional grip on peer-to-peer consumer lending has become even tighter. UK consumer lending in P2P is still considered a retail investor's game, but it was reported that institutional investment rose significantly towards the close of 2015, having had modest involvement at the beginning of the calendar year.
· £288m was lent by institutional funders across consumer lending platforms in 2015 accounting for 32% of total market volumes.
More can be found on institutional activity in the
Nesta report
, page 40 onwards.
To reaffirm institutional funding of peer-to-peer loans, AltFi published stats on Funding Circle, who, by Autumn 2015, were funding whole loans preserved for institutional lenders (not retail investors) at a rate of
50% of total monthly loan volumes
(see: July whole loans vs fractional loans graph 1).
Innovative Finance ISA (IFISA) will boost retail investor numbers
Now that peer-to-peer lending UK could be conceived as a "thing of the past", having evolved into marketplace lending, we can assess the impact of the Innovative finance ISA on this now very much institutionally affected market.
The Innovative Finance ISA, or 'peer-to-peer ISA' as some are calling it, will allow retail investors, or retail savers to look for an alternative investment, to earn tax-free interest on their annual allowance of £15,240 in 2016. Investors can open an IFISA with a single P2P platform, investing their allowance, or accumulated allowances, to earn higher interest rates than those offered by the other two main ISA products: cash ISA and stocks & shares ISA. There are some complexities to this new ISA, so read
'Innovative Finance ISA 2016: overview'
for a better understanding of how it works,
Peer-to-peer lending real estate platforms are reportedly lowering their minimum investment with the prospect if the new Innovative Finance ISA. An influx of retail investors will come onto the P2P market looking to 'increase their exposure to the UK property market, not only owning their home, but also in other ways, such as investing through peer-to-peer lenders' according to
Guglielmo de Stefano of AltFi
.
· Real estate peer-to-peer platforms expect the IFISA to boost the market volume in 2016 by 51%. (
Nesta report
)
An influx of 405,000 new retail investors is expected this year in light of the introduction of the IFISA. Of
1,020 UK adults
surveyed, 19% exclaimed they would open an ISA and start actively saving. An important thing to remember is that P2P lending is an alternative investment product, and not a savings product. Retail investors, savers, whatever they deem themselves, will not be covered by the FSCS if funds are lost.
To conclude, peer-to-peer lending has evolved into marketplace lending with institutional investing permeating the industry. The Innovative Finance ISA will stimulate retail savers and investors alike boosting the marketplace lending industry. With more retail investors coming onto the market what affect will this have on the dichotomy of institutional lenders and retail investors? 2016 will be a testing year for marketplace lending, and with only Zopa and RateSetter marketing their peer-to-peer ISA products how much of an impact will the Innovative Finance ISA actually have.
Jordan is a FinTech enthusiast and co-founder of UK's no.1 peer-to-peer lending comparison service, where the everyday person can research, compare and feel empowered to invest and earn more money on their money. Jordan@orcamoney.com,
@orca_money
,
www.orcamoney.com