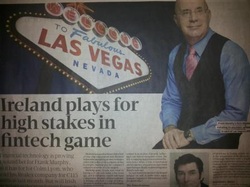 Jack Horgan-Jones, Roisin Burke and Ian Kehoe of the
Sunday Business Post
report on Ireland's growing fintech scene (12 April 2015). The paper is a subscription service. We cannot post the story here as it is subject to copyright.
'
Financial Technology is proving a sound bet but will Irish regulation depress future fintech innovation?
'' is the question the journalists pose. The key point raised by
Fintech Ireland
is that "
Every jurisdiction in fintech is going to have its own angle, but unless Ireland is out there telling its story, nobody's going to know about it, and we are not going to get the business. That's the real issue.
"
Indeed it is!
Ireland has a lot of positives, so too does its regulatory regime. In the area of collective investment schemes, we are internationally respected for our efficient and effective authorisation of funds, the early adoption of new EU Directives and our risk-based supervisory approach towards the investment funds industry. If we could leverage that strategy and execution in the area of payments and e-money, and more generally in the Central Bank's engagement model with fintech stakeholders, we have the makings of an exceptionally positive future - no doubt.
In the article
Fintech Ireland
is one body noted as driving fintech in Ireland. Others should be credited for pioneering work in supporting and in some cases financing fintech startups. We are not affiliated with these groups but we know them.
Fintech Innovation Lab
,
NDRC
,
Niamh Bushnell
,
Payments Ireland
,
Dave Anderson
,
Joe Lavelle,
Enterprise Ireland
,
IDA Ireland
,
Colm Lyon
,
Peter Oakes
and
Senddr
(for its fintech meetups). If there is anyone else out there organising fintech in Ireland, please let us know at
hello@fintechireland.com