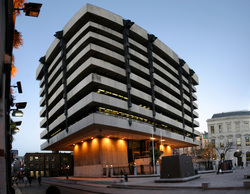 Yesterday we published
Peter Oakes
' presentation on fintech at the Financial Services Ireland event in Dublin. Mr Oakes' presentation is
here
.
Earlier today (29 May 2015) the Central Bank published the speech given yesterday by
Bernard Sheridan
, Director of Consumer Protection at the Central Bank of Ireland.
Click here
for the speech.
A couple of points to note, Mr
Oakes
and Mr Sheridan were on a four person panel together with
Colm Lyons
(
PaywithFire
), and hosted by Marc Coleman, Director of Financial Services Ireland. As the event was a private event we will not disclose the content of discussions but rather point to information in the public domain.
A few points to note:
Mr Oakes and Mr Sheridan are former colleagues at the Central Bank of Ireland where Mr Oakes was the Director of Enforcement and Financial Crime and Mr Sheridan is Director of Consumer Protection. Mr Oakes was a member of the Senior Management (Leadership) Committee and also sat on the Policy and Supervisory Risk Committees of the Central Bank together with being members of other Central Bank fora.

In an article appearing in the Sunday Business Post on 12 April 2015, Mr Oakes was quoted as saying
'The perception is that the Central Bank is not a great regulator to deal with from the startup scene, or if you're moving into the financially regulated space," said Peter Oakes, who is driving the Fintech Ireland project'.

'People feel there's no clarity around timelines to get regulated. That hurts us in two ways. One, people will drop out and choose another jurisdiction, and two, rumours and stories are going around international financial markets that it's best to avoid Ireland.'

'Every jurisdiction in fintech is going to have its own angle, but unless Ireland is out there telling its story, nobody's going to know about it, and we're not going to get the business. That's the real issue.'

The above points were addressed by the Central Bank in its speech. Our feedback together with that of others has been heard by the Central Bank and yesterday's statements are very reassuring. If you are interested in the Central Bank's authorisation process and how it relates to Fintech, note the following from the Central Bank:
"Our authorisation process is subject to on-going review and we have been considering how we can move to a more effective and facilitative approach to progressing applications which meet the authorisation standards. Feedback received from a number of sources has been useful in helping us review and refine our approach. We have identified a number of key principles to underpin our authorisation approach and specific areas which we believe will assist us in moving to a speedier, more streamlined and effective authorisation model including:
Accessibility – we will be offering potential applicants the option of an initial meeting with us to discuss the application process and key areas that need to be addressed in any formal application. This is designed to enable firms to focus on making their formal application rather than engaging with us on specific details in a pre-application process. We will also continue to deal with questions/queries from applicants during the authorisation process should they arise.
Transparency - we will be further streamlining the authorisation process to ensure that all applicants have a better sight and understanding regarding the authorisation process and, importantly, the stage that their application is at and the next steps in progressing the application.
Timelines – following the receipt of an application, we will be clearer with applicants on the expected timelines involved in reviewing their application.
We will continue to review the effectiveness of this approach in order to ensure it is working to achieve all of our objectives." HTML version of speech here