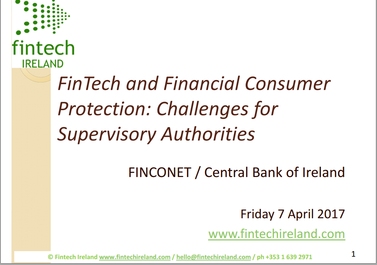 Peter Oakes
, Founder of
Fintech Ireland
gave a presentation as part of the Session 1 Panel.
His slides are here
.
Back on 7th April 2017 at the Central Bank of Ireland's new premises, FinCoNet gathered for a seminar to allow supervisors and other parties interested in financial consumer protection to listen to, exchange views with, and pose questions to a variety of speakers over three panels on topics related to financial innovation and consumer protection.
The FinCoNet Open Meeting provided an opportunity for supervisors to discuss these topics further, to learn about the work of FinCoNet and to gain useful insights on the benefits of membership through the value of sharing information and knowledge on supervisory tools and best practices.
Both the Seminar and Open Meeting will focus on issues relating to fintech and financial consumer protection.
Read more about the event
here
.