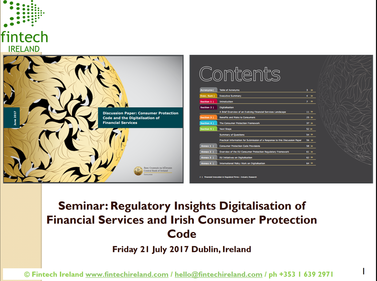 ** Seminar:
Friday 21 July 2017 Digitalisation in Financial Services and Consumer Protection
.
To receive an invitation to this event join our mailing list for advance notice
. We'll pull together feedback from this event to assist with preparation of a response to the Discussion Paper.
For a copy of the
Central Bank of Ireland's Discussion Paper No. 7 Consumer Protection Code and the Digitalisation of Financial Services
click here
As in many sectors of the economy, digital technologies are transforming retail financial services and the consumer journey. The Consumer Protection Code 2012 (the Code) places obligations on regulated financial services providers (firms) across all areas of a consumer's interaction with a firm, from access to financial services, provision of information, assessment of suitability to the proper handling of claims and complaints from consumers. However, the digitalisation of financial services introduces new benefits and risks for consumers.