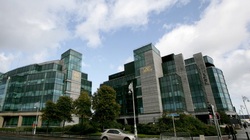 Speech by Minister of State Simon Harris, T.D. at the launch of IFS2020, the International Financial Services Strategy Wednesday 11 March 2015
Although there are numerous sectors covered in Ireland's IFIS2020 Strategy, this site, as you might expect, is focused on the vitally important sector of fintech in Ireland and its impact on the global stage. The
speech
addresses
the realisation of Ireland's vision in which five strategic priorities and 30 concrete actions are identified for immediate delivery, including "
the very exciting opportunities FinTech presents for Ireland. Ireland is uniquely positioned to become a leading global centre for FinTech – where global multinationals can develop and implement their innovation strategies, side by side with Irish-owned start-ups who will scale and succeed in global markets".
The strategy document is available here.