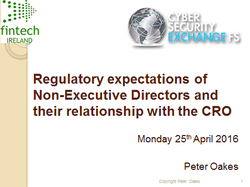 On Monday 25th April 2016 I gave a presentation to the attendees of the Cyber Security Exchange FS.
Click here for the slides
.
Any comments or feedback to
hello@fintechireland.com
We are speaking at many events in Ireland and overseas. And we are contributing to numerous articles on the topics of fintech, regtech, banking, payments, insurance, investment management innovation, marketplaces, e-commerce and regulation. If you would like to discuss us contributing, please contact us at
hello@fintechireland.com
.